Benefits
BIOVANCE is an amniotic membrane allograft derived from a natural source — the placenta of a healthy, full-term human pregnancy. The progenerative power of the amniotic membrane supports the body's natural ability to restore tissue to a pre-wound state.1-6
The natural function of the amniotic membrane brings protection and support to the wound it covers.1-6
Reduces inflammation4,6
Supports tissue growth6
Provides a biological barrier to infection6
Minimizes pain upon application3,4
Maintains a moist wound environment4
Indications
BIOVANCE is indicated for a broad range of wound types, including, but not limited to:
Acute
Chronic
Mohs surgery
Burns
Trauma
Exposed tendon, muscle, bone
Complex
Surgical
Venous leg ulcers
Diabetic ulcers
Pressure ulcers
Arterial ulcers
Safety
BIOVANCE is minimally processed to maximize natural benefits and safety. The immunologically inert tissue:
Contains no antigens,6 which further minimizes the risk of inflammatory response
Chorion layer is removed to further support the natural healing process

Eliminates cellular debris
Avoids potential addition of MMPs to the wound7
Prevents need for specific orientation for placement
Application
Ease of application and wound visualization: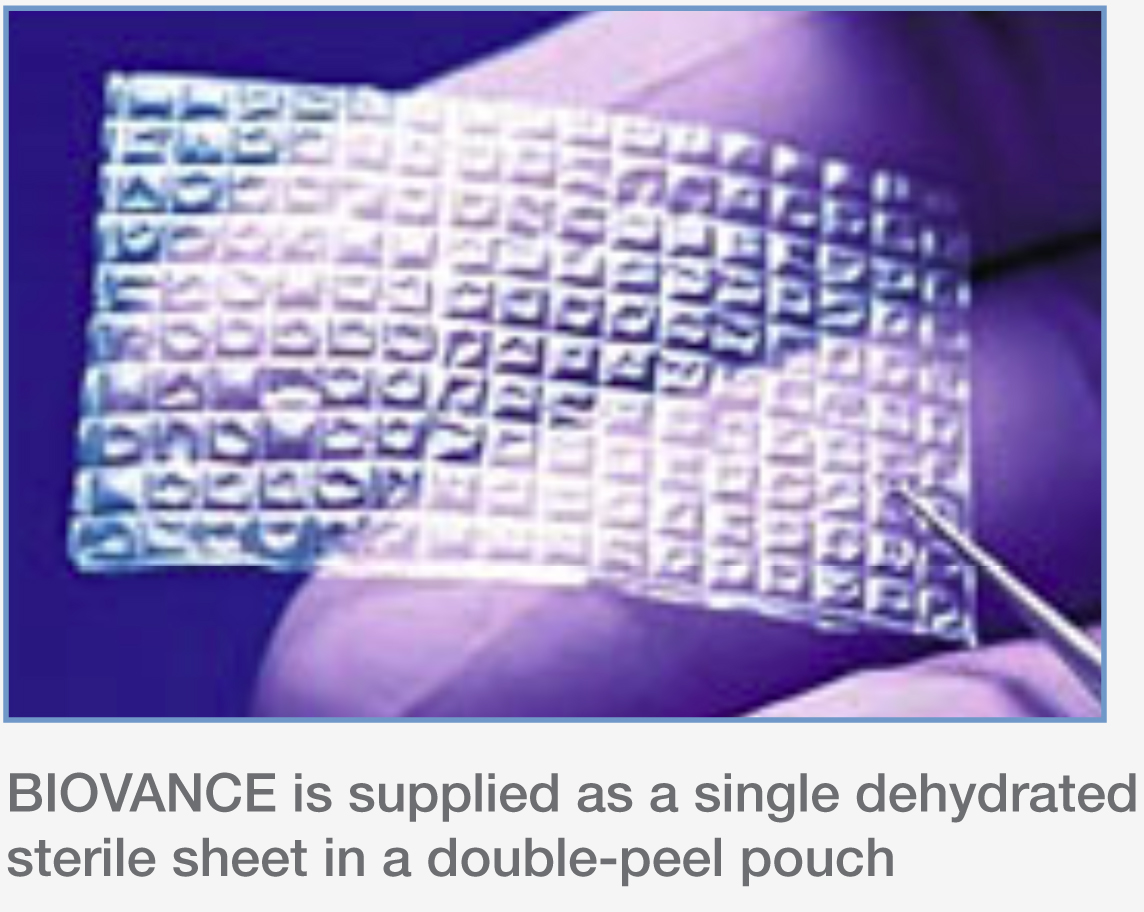 Translucent grid pattern is evident on the wound until hydration to allow view of the wound's progress
BIOVANCE is flexible to conform to irregular surfaces
BIOVANCE can be applied with either side facing the wound, and can be sutured, taped, stapled, or glued, as determined by the clinician
BIOVANCE should be applied to a clean wound and covered with an appropriate secondary, non-adherent dressing
Storage
Off-the-shelf availability for a broad range of wounds.
5-year shelf life eliminates need for pre-ordering
Room temperature storage (no refrigeration necessary)
Sizes
Availability in multiple sizes for application flexibility:
Bhatia M, Pereira M, Rana H, et al. Mechanism of cell interaction and response on decellularized human amniotic membrane: implications in wound healing. Wounds. 2007;19(8):207-217.
Faulk WP, Matthews R, Stevens PJ, et al. Human amnion as an adjunct in wound healing. Lancet. 1980;1(8179):1156-1158.
Fetterolf DE, Synder RJ. Scientific and clinical support for the use of dehydrated amniotic membrane in wound management. Wounds. 2012;24(10):299-307.
Ganatra MA. Amniotic membrane in surgery. J Pak Med A. 2003;v53(1):29-32.
Portmann-Lanz CB, Ochsenbein-Kölble N, Marquardt K, et al. Manufacture of a cell-free amnion matrix scaffold that supports amnion cell outgrowth in vitro. Placenta. 2007;28(1):6-13. Epub2006.
Niknejad H, Peirovl H, Jorjani M, et al. Properties of the amniotic membrane for potential use in tissue engineering. European Cells and Materials. 2008;15:88-99.
Arechavaleta-Velasco F, Marciano D, Díaz-Cueto L, Parry S. Matrix metalloproteinase-8 is expressed in human chorion during labor. Am J Obstet Gynecol. 2004;190:843-850.